Villas for sale in Fusion Resort and Villas Danang
Ref.No. BB.NH.FRD
Ngũ Hành Sơn, Đà Nẵng 550000, Vietnam
Features
BEACHFRONT
CABLE TV
A/C IN LOUNGE
FURNISHED
CAR PARKING
SWIMMING POOL
GARDEN
24/7 ACCESS
AIR CONDITIONING
GYM
BACKUP GENERATOR
LAUNDRY
BALCONY
OUTDOOR AREA
PLAYGROUND
PRIVATE POOL
RECEPTION DESK
SECURITY
TENNIS COURT
WALK TO BEACH
WIFI
Villas for sale in Fusion Resort and Villas Danang
Fusion Resort and Villas is one of  the most exciting new projects with Beachfront Villas for Sale on the Da Nang luxury property map.
The five-star Fusion Resort Danang , along with Hotel and great facilities such as 60 meter main pool with panoramic views of the sea, includes 85 of luxury villas for sale offered to individual investors.
All of the villas for sale ranging from  6  to 1 bedroom, enjoy their own private gardens, pools, and a very unique feature – Pavilions – set within the private landscaped gardens and snaking through the private pools, for a more intimate, relaxing feel.
Access to 5* facilities (Restaurant, Kids Club, Gym, Tennis Court, Pool Beach Area) and Optional Rental Program. Enjoy beach resort living  and excellent investment potential with:

• Premium villas near the ocean where owners and guests can enjoy a walk on the beach, a host of activities or simply relax in the private beach cabanas.

• Spectacular views toward the East Sea, Cham Islands, and Marble Mountains.

• Perfect Location within 20 minutes from Danang Internatonional Airport, across one and near total of 5 World Class Golf Courses, ideally communicated with all of the popular local destinations incl. UNESCO sites (Hoi An, Ba Na Hill,  My Son, Hoiana Casino etc.)

 
The Fusion Villas Danang are available for 100% acquisition to foreign investors (LTLA) and Vietnamese buyers (SPA). 
Villa owners can elect to participate in an optional hotel rental and management program operated by reputable hotel manager – Fusion.
Perfect mix between investment real estate and lifestyle second-home. Generating strong rental return under the Rental Program by reputable operator and with excellent potential for capital appreciation over time
Villas starting at:
| | |
| --- | --- |
| 1 Bedroom Garden Front Villas | From: $680,000 |
| 2 Bedroom Garden Terrace Villas | From: $1,000,000 |
| 3 Bedroom Beach Garden Villas | From: $1,335,000 |
| 4 Bedroom Beach Garden Villas | From: $1,400,000 |
| 3 Bedroom Premier Villas | From: $2,400,000 |
| 4 Bedroom Premier Villas | From: $3,200,000 |
| 5 Bedroom Beachfront Villas | From: $4,000,000 |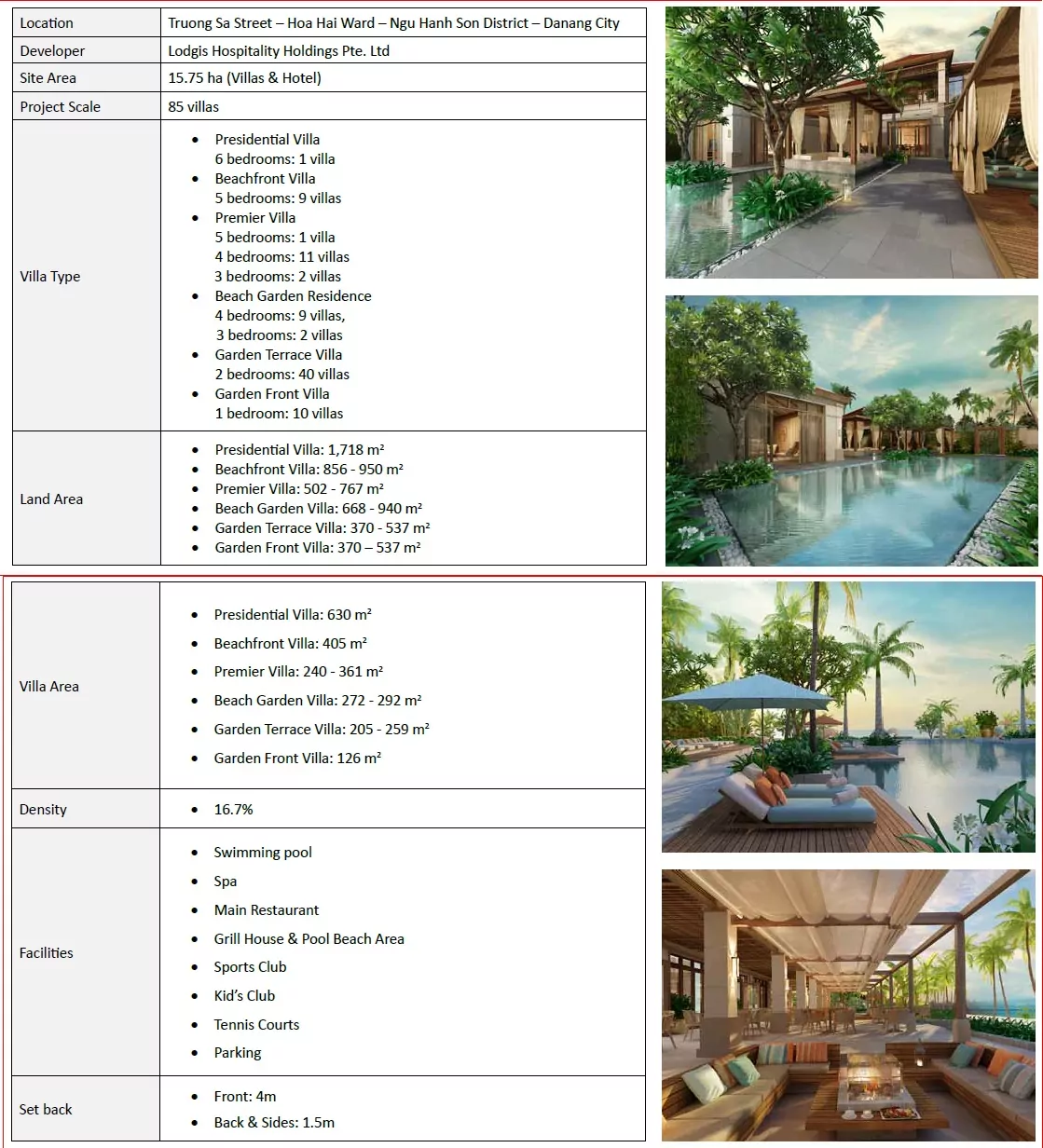 Work on site is ongoing with handovers scheduled for Q2/2023. During an Exclusive Project Launch Event of Fusion Resort and Villas Danang,  all forty four villas of Phase I - north "half" of the project - have been sold to investors. Opening of Sales of Phase 2 of the Villas in the project is expected in Q2/2022.
Limited Resale Options from Phase 1 available now.
We strongly recommend interested investors to register interest  as soon as possible to be the first to have the opportunity of acquiring villa of their respective choice and receive information about any potential resale opportunities.
MARCH 2022 UPDATE - REGISTRATION FOR THE SALES LAUNCH EVENT ON APRIL 30th are NOW OPEN! Contact us to register today!