Destination:
shantira.com.vn
Tower A of the Shantira Resort project in Hoi An was completed by the Royal Hoi An Group (Beachfront Villas & Condos for Sale).
The topping out ceremony for Tower A of the Shantira Beach Resort & Spa project in Hoi An was held on October 2 by Hoi An Royal Group, the project's developer (Oceanfront Villas and Condos for sale in Hoi An, near Da Nang City). Despite being impacted by the covid-19 pandemic, the Shantira Hoi An project ran more than 30 days over its projected completion date.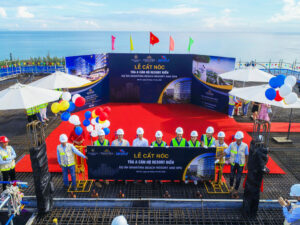 Based on distinct values, Shantira Beach Resort & Spa polishes the essence of Hoi Hoi An Royal Group, with the desire to create the Shantira Project as a 5-star resort paradise by the ocean, honoring the local culture and fusing resort spirit, constructed an old town.
The project's completion and early operation start will contribute new supply to the resort real estate market and strengthen investor confidence. The ceremony marking the topping out of Tower A - Shantira Hoi An is a significant occasion.
Only 70 beachfront villas facing An Bang's beach and 497 resort condos with ocean views are available for purchase in the Shantira project's An Bang beach resort in Hoi An.
The topping out ceremony of Tower A – Beach condos for sale in Hoi An
Tower A of the Shantira Resort project in Hoi An was completed by the Royal Hoi An Group (Beachfront Villas
Read more
Shantira Hoi An Beach Resort & Spa: Year-end Sales Promotion & Construction Progress 2021 | CVR
In the bustling atmosphere of the year-end festive season, CVR will "reveal" everything you need to know about the attractive
Read more
Shantira Hoi An LegaSea Villas – Product Introduction
Shantira LegaSea – a multi-experience luxury villas chain, is one of the ultra-luxury resort real estate products from Royal Capital
Read more