INTRODUCTION
Global pandemic of COVID-19 virus has had an impact on nearly every aspect of our lives and at the time of writing affected over 3 million people all over the world, including Vietnam. Different countries employed different strategies to fight the virus yet most enacted some type of a lock-down and social-distancing. Some had more success than others, but comparatively speaking, Vietnam has been very successful with strong anti-spread measures and in fact has been recently praised for it's efforts by international media. Vietnam quickly stopped flights and overland travel in early March to and from China and banned all foreign entries after March 22nd, except for a limited number of cases, mainly returning Vietnamese citizens who all had to undergo a two-week quarantine. Closure of non-essential shops and business along with historical sites and tourist attractions which followed from March 28th, resulted in normally crowded places like Hoi An Ancient Town to look like this .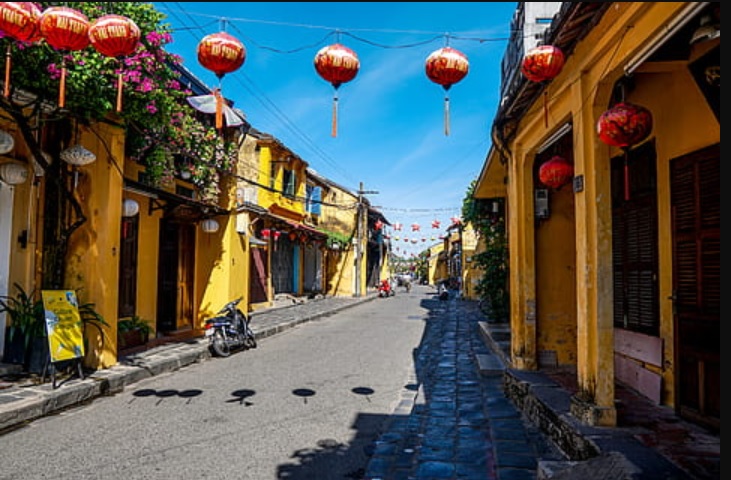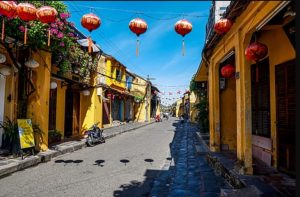 To put this in perspective –  as of April 28th Vietnam – a country of over 95 million and bordering China had only 270 cases with no recorded deaths, compared to nearly 3000 cases and over 50 deaths in neighboring Thailand. 
Tough measures introduced by Vietnamese government yielded great results so far and easing of social distancing has officially started from April 23rd in a bid to begin economic recovery with the country's top tourist destinations already in the process of reopening and plans for gradually adding more flights in May onwards.
ECONOMY
The global economy is forecasted to take a serious slump with 2020 global GDP growth by some sources at near 0% and International Monetary Fund saying recently that the 'Great Lockdown' global recession may cause worst economic meltdown since Great Depression. 
After strong economic performance in 2019, Vietnam's situation is also challenging, but according to IMF's forecasts, the GDP dynamic should remain positive at +2.7% this year and rebound strongly in 2021 at over +7%.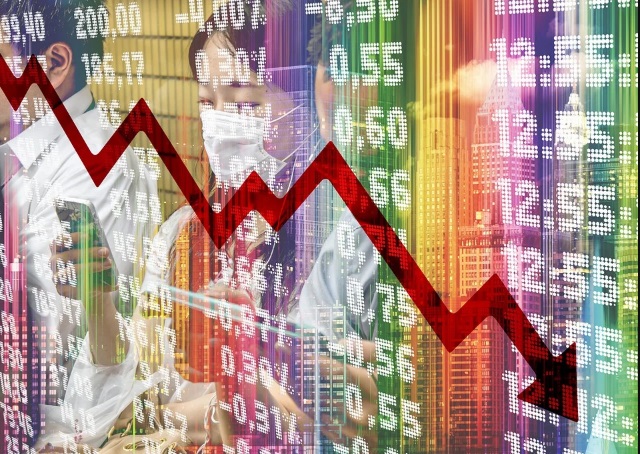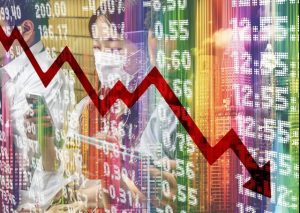 Central Vietnam's fastest growing area of Da Nang and Quang Nam province – home to Hoi An – have also been hit quite hard – especially given the large role of tourism and related services. Pandemic resulted in nearly 30% decrease of visitors to Da Nang and close to the same level in Quang Nam in the first quarter compared to the previous year.
Da Nang's authorities estimate the revenue from tourism in Q1/2020 at VND 435.5 billion, down 19.5% year to year. As of March 17, 2020, the number of regular direct international flights to Danang decreased to 10 routes with a frequency of 120 flights per week (down 17 routes and 248 flights per week compared to Q1/ 2019) and dropped even lower in April before gradually opening up in May.
While COVID-19 and resulting limits in transportation have obviously resulted in a high stress on the tourism sector (including hospitality and travel-related activities), authorities of Da Nang do not remain idle. In order to deal with the problem, the municipal Tourism Association has asked the local government to issue more preferential policies for tourism companies including land lease fee reductions for hotels and resorts for two years, delays for tax payment and exemptions or reductions for admission fees at some historical and cultural relic sites. In another remedy move, the Da Nang authorities have approved to establish the Danang Tourism Promotion Fund aimed at creating a closer link with tourism businesses from both home and abroad, and launching domestic and international marketing campaigns in order to help the recovery.
REAL ESTATE MARKET
With the pandemic having a major impact on financial markets and the global economy, it is only natural to expect real estate markets to also be affected. Before the pandemic, real estate market of Da Nang, Central Vietnam as well as on the national level has been doing well overall even if cooling off a bit in the end of 2019, but with strict limits on movement being imposed, the first quarter of 2020 has seen a major decline in the number of transactions across all segments.
Ho Chi Minh City has seen lower transaction volumes in the end of 2019 due to limited supply and already in December 2019, so well before the pandemic went global, it has been reported that real estate agents quit in droves as HCMC market decelerates. Pandemic has added to this negative trend, halting most of the transaction, and reports are saying that transaction volumes of apartment sales in HCMC dropped in Q1 by over 50 percent year-on-year and reports of nearly 80% of the real estate trading floors suspending operations have been published.
Measures limiting movement have caused some of the buyers and sellers to postpone the deals planned. At the same time a lot of the investors decided to wait and see how the situation affects the market as well as to prepare to go ahead with the purchase once the price bottoms out in their eyes.
Very similar situation could have been observed in Da Nang, however apart from the temporary "freeze" of the market as a whole, individual sectors of the real estate market are being affected by the pandemic to varying degrees. With a very limited number of new projects – mostly in the holiday apartments and resort villas segment –  some like Aria Da Nang, Le Meridien Danang Villas delayed the official launch of sales. Transaction numbers are estimated to be at least 50-60% down in the first 3 months of 2020 compared to last quarter of 2019. 
Potential foreign condotel and holiday property buyers remain stranded in their respective countries hence close to 80% decline in transactions for period from early February to mid April, but with economic recovery on the horizon those numbers have already started bouncing back by 20-30% as the statistics from CVR and LuxuryPropertyDanang.com show as of end of April. 
For the more local Vietnamese market – mainly in land plots, where the market in Da Nang/Hoi An was already priced relatively high and slowing down on transaction values, the lockdown has further accelerated this process with almost no sales in the last couple months other than in the lowest priced land plot projects further south in Quang Nam. We expect prices of most land for sale to have further downward pressure in short term perspective with the rebound possible towards end of the year.
However, with Da Nang and Hoi An growing into a main hub of Central Vietnam and Da Nang striving to become regional major socio-economic centre we see demand for residential housing on a stable growth trajectory mid to long term. The "corona crisis" will not in a significant way decrease the demand for residential property as people will always need a place to live. As we observe a continued influx into large and mid-size cities, we do expect more new residential developments further away from strict city center of Da Nang to the north and south-west and perhaps new ones south of Hoi An to gain speed, offering larger land plots at more affordable prices while maintaining good infrastructure of services and facilities. 
From an investment point of view with primary focus on rental income generation, we expect possible negative impact on yields within 2020 and instead of continued increase in price per square meter, even up to double digit price corrections offered mainly in form of discounts. We foresee serviced apartment and holiday property segment's longer recovery in transaction volumes and down pressure on secondary market prices – duration of which will be very closely connected with the time needed for the tourism and travel sector to improve. Considering the above, investors may also lean more towards apartments and villas for sale in Da Nang and Hoi An's beachfront which are under construction and scheduled for handover 12-18 months in the future, offering hopes of Covid-19 pandemic to be long over as well as payment schedules in stages along the construction progress. Projects in the best locations and those offering most flexibility in form of use were always on top of our list of best condos – see here for the best up and coming apartments and condotels for sale in Da Nang and Hoi An as of April 2020. 
Residential rental market has also decreased in both number of transactions – mainly due to very limited inlux of new prospective tenants amidst growing supply of apartments and houses/villas for rent in Da Nang, and asking prices – with landlords offering 10% to even 20% discounts. 
Retail and office leasing is being similarly affected with tenants often re-negotiating the lease agreements and landlords offering temporary reductions.  Da Nang continues growing and while some of the businesses will close and change ownership, as data from CVR's commercial leasing department shows, prime location properties and premium office segment are starting to record new demand again.
While the hospitality and retail sectors are having a harder time in the corona crisis, the demand for warehouses and storage spaces/ready built factories for lease in Da Nang and the area could grow further, especially given very low supply in the central region of Vietnam. This growing demand is also positively affected by another consequence of the pandemic – a serious disruption and change in reality of supply chains. Manufactures are actively seeking to diversify their production and suppliers base away from China – trend which has been visible already in 2019, as Vietnam has been called one of main winners of trade war between the U.S. and China. Recent reports from Nikkei Asian Review on Google, Microsoft accelerate shifting production to Việt Nam due to virus confirm that direction.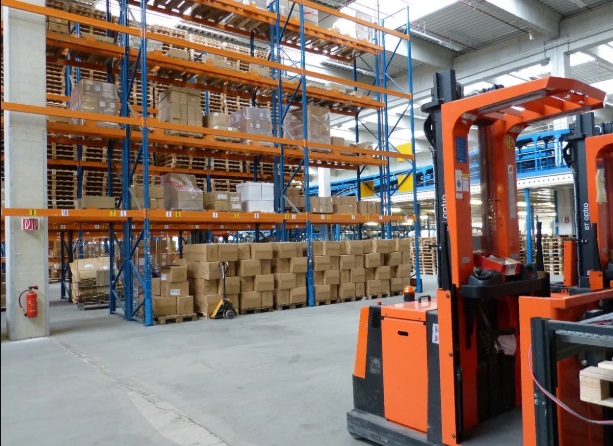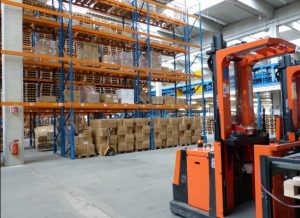 As manufacturers need factories, e-commerce platforms need well positioned warehouses for storage and those are already in short supply in Da Nang area. Experience of the pandemic is likely to increase the demand for anything delivered to your door and so we expect it to only further accelerate the growth of the booming e-commerce market in Vietnam which in turn will positively affect this part of the commercial real estate market in Da Nang. Recent calls for investment into two new industrial zones in Hoa Vang district to the north-east and expansion of almost full Hoa Cam IP in the Cam Le district to the south are a good indicator of the above dynamic.
As for changes in the customer experience when shopping for a new villa or apartment in Da Nang, technological advancement which are already here in the form of video tours and 360 degree property tours are bound to speed up with more and more transactions not only starting but concluding on-line and without physical presence. 
Recent examples may include a 360 degree presentation of the completed model units of Shantira Hoi An holiday apartments for sale which you can see here and a 360 degree panoramic view generator for different heights (from 30 meters up to 250 meters and 58 floors – click here to have a look) of the currently selling second tower of the most premium beachfront holiday apartment project in Da Nang – Wyndham Soleil.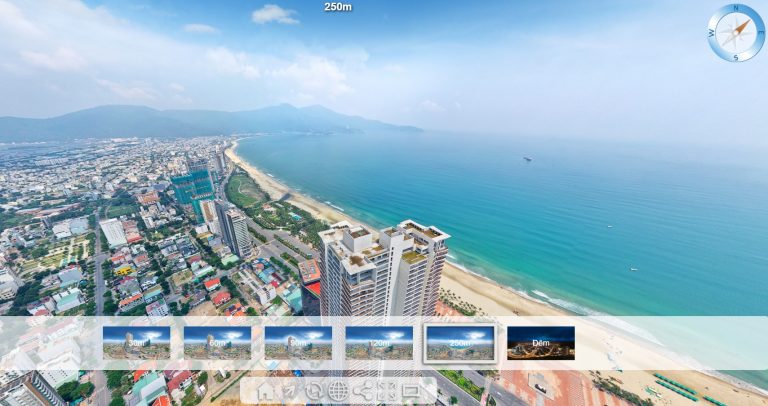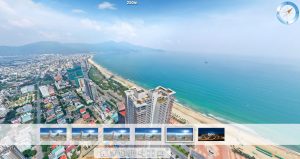 Excellent communication skills and flexibility in channels of presenting the property most suitable for each individual client, while ensuring all safety and personal protection measures is what teams at CVR and LuxuryPorpertyDanang.com are doing in Da Nang and other reputable actors of the real estate stage in Vietnam including developers are trying as well. 
SUMMARY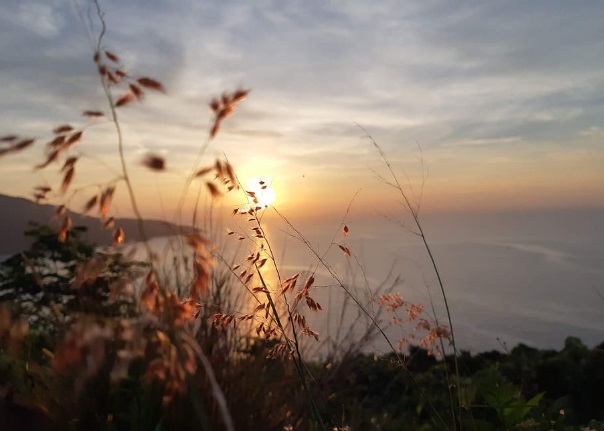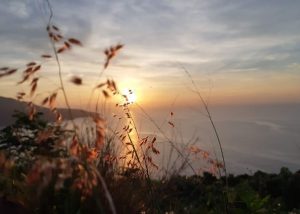 In summary, while the economic slowdown is negatively affecting the real estate market of Central Vietnam including Da Nang and Hoi An in the short term perspective, resulting in transaction volumes pulling back in the first half of the year, we are heading into summer with recovery in sight. Vietnam appears to be one of the winners in handling what has become a global pandemic and there are reasons to be cautiously optimistic.
In real estate not all segments are being affected equally. We expect retail, office and especially hospitality to take the longest to recover – possibly not until or even beyond Q3-4 of 2020 with industrial and residential likely to prove the most resilient and quickest to bounce back on path of continued growth.
We expect more focus on affordable residential segment and growth in supply of greener projects offering larger homes further away from the city center for those valuing less crowded lifestyle. Exact consequences will largely depend on the progress and timeline of easing the travel restrictions in Vietnam and around the world, with first signs of improvement already on the horizon as of the end of April 2020.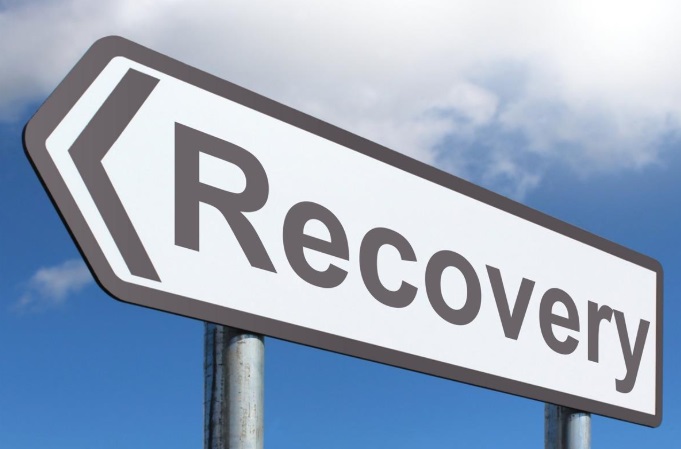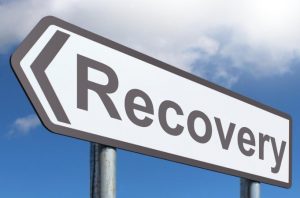 CVR's sales and leasing agents are ready to serve clients in Central Vietnam with all real estate related enquiries in these unprecedented times and look forward to employing cutting edge, tailor made technologies to facilitate safe and efficient communication with all our clients.

Peter Frieske
Managing Director
CVR – Central Vietnam Realty
Da Nang, Vietnam