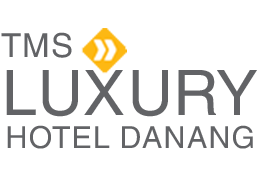 TMS Luxury Hotel Da Nang Beach Located on Vo Nguyen Giap road – the sea road of Da Nang city, through My Khe beach – one of the most beautiful beaches on the planet. With complete transportation infrastructure, from the project, easy access to all the famous attractions of Danang as well as the city center.
 
5 km from Da Nang International Airport
5 km from the city center
25 km from Hoi An ancient town
With modern design and optimum visibility, 80% of the ocean front apartments of TMS Luxury Hotel Da Nang offer stunning ocean views and 100% of the apartments will receive natural light and sea breezes.
Facilities
TMS Luxury Hotel Danang is built on top of the project, covered in air in the air. At the boundary, where the sky and sea meet, you can get a view of the ocean as well as the panoramic city, while at night it all becomes a paradise of sparkling light.
High-end fitness center, state-of-the-art Japanese restaurant, rooftop swimming pool, modern and luxurious Sky Pool Bar to provide an enjoyable and perfect experience for guests
Project details
Investor: TMS Danang Hotel Joint Stock Company (TMS Group Member)
Location: Lot A3, Hoang Gia 1 Commercial – Service Area, Vo Nguyen Giap Str., My An Ward, Ngu Hanh Son District, Da Nang City.
Scale: 25 floors and 2 basements
Product Type: Hotels and Condotels
Product structure: Single Condotel, Condotel Double, Japanese Condotel
Design Consultant: PURE Project (Australia)
Executive Management: Welham (Hong Kong)
Capital Sponsor Bank: Military Commercial Joint Stock Bank (MB bank)
Investment Opportunity
TMS Luxury Danang Condotel The hotel apartments for sale in this project are for investors with the Rental Program bringing 10% of profit – guaranteed by MB Bank.
Customers receive 10% of the apartment value (not including VAT, maintenance fee) per year for the first 10 years and from the 11th year, 85% of the profit from the rental of the hotel.
Owners also enjoy 15 nights free use per year with an option to exchange nights with other hotels in the TMS system.
Price range from  USD105,000 to USD158,000
Guaranteed income 10% for 10 years, from the 11th year share 85% and 15%.
15  nights/year
Hand-over: Q4/2018
AUGUST 2019 UPDATE – PROJECT SOLD OUT