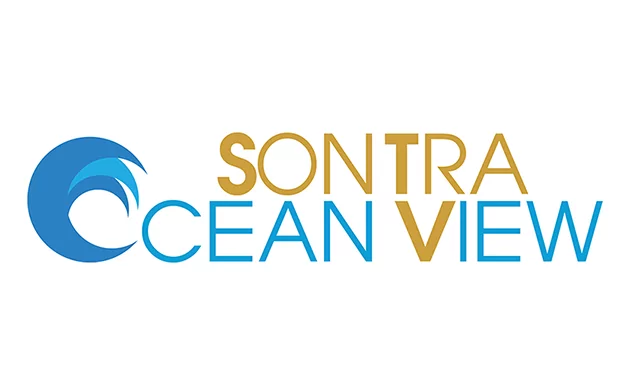 S

ON TRA OCEAN VIEW DA NANG APARTMENTS FOR SALE
October 2019 Update: Sold out. Only RESALE UNITS available!
Son Tra Ocean View Da Nang Apartment project is located on – Ngo Quyen Street – one of the main streets  of Son Tra District, short drive from the beach and Son Tra Peninsula, famous for it's unique biodiversity and wildlife.
The distance of under 1 kilometer to the Danang's beach and about 4km to the administrative and business center of Da Nang City makes the location convenient for both residential and holiday purpose.
A 23-floor tower of 356 apartments offers 1, 2 and 3 bedroom units for sale, ranging from 49.5 to 96.3 square meters. Modern finishing of the apartments along with on-site facilities such as Rooftop Infinity Pool, Gym/Exercise Room, Kid's Playground, Spa/Beauty Salon and Convenience Store make this project a worthy consideration choice for both families looking for their own home in Da Nang, as well as investors interested in rental returns and long term appreciation in value.
Project Images - Floor Plans - Unit Photos
PROJECT DETAILS:
Investor:  MERIDIAN LAND 1 LTD. Company.- Co-investor: Minh Tran Real
Total land area: 3,379 m²
Gross floor area: 26,612 m²
Number of towers: 1 Block of apartment
Number of floors: 23 floors
Number of apartments: 356 apartments
Building density: 47%
Total investment: expected $40 million
Design: Singapore standard – Smart Home technology
UNIT DETAILS:
1 bedroom type: 49.5-54.3m2 (156 units).
2 bedroom type: 73.1-82.7m2 (176 apartments).
3 bedroom type: 96.3m2 (18 units).
6 penthouses (from 175sqm to 305sqm)
  
ADDITTIONAL INFO: 
Facilities: Sky Bar, Gym/Exercise Room, Hanging Gardens, Playground, Infinity pool (adults, children), Spa Services.
Management fee: 10,000VND/sqm/month.
Parking for motorbike: 100,000VND/bike/month; 1,000,000VND/car/month.
TRAVEL TIMES TO POPULAR TOURIST DESTINATIONS:
Thuan Phuoc Bridge: 5 minutes
Son Tra beach: 3 minutes
City Center: 10 minutes
Da Nang Airport: 20 minutes
Son Tra Mountain: 7 minutes
Da Nang An Don Industrial Park: 5 minutes
Son Tra Ocean View Da Nang Features:
Son Tra Ocean View Da Nang - One Bedroom Apartment For Sale
Units Available in Son Tra Ocean View