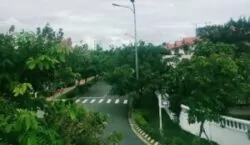 Fortune Park is the first residential villa compound in Da Nang with 210 villas.
Conveniently located on Ngo Quyen Street, An Hai Bac Ward, Son Tra District, Da Nang, just 700m from the city center & Han River Bridge and only 1km from Pham Van Dong Beach, Fortune Park not only attracts Vietnamese people but also attracts many foreign experts working in Da Nang. 
Luxuriously planned and absolutely secure, Fortune Park is separated from the hustle and bustle of the Da Nang dynamic young city. Fortune Park is a convenient place to live and work in Da Nang.
Overview
– Official name: Phuc Loc Vien (Fortune Park)
– Investor: Massda Land Co., Ltd
– Location: Ngo Quyen Street, An Hai Bac Ward, Son Tra, Da Nang
– Total area: 7ha
– Fortune Park has been completed and put into operation, including 210 completed villas
– Year built: 2013
– All villas have pink books
Fortune Park offers 3 types of villas which are adjacent villa with an area of ​​150m2 and the semi-attached villa with an area of ​​300m2 and freestanding villa.
Each villa has two floors, consists of 3 to 5 bedrooms, a storage room, and a housekeeper's room, a garage, front garden, and backyard.
Fortune Park brings the beauty of a luxurious Western neighborhood with red tile roofs and a wide two-lane road. Residents can enjoy the peaceful and relaxing internal park and kid playground; With fresh walking paths, flowers, tennis courts inside the residential area, residents can take a break after a long day of work.