Nobu Hotel & Residences Da Nang, a prestigious real estate project poised to become one of the most iconic landmarks in Da Nang City. Nestled near the stunning My Khe beach, renowned as one of Asia's top ten beautiful beaches, this project offers an unparalleled location at the intersection of Vo Nguyen Giap and Vo Van Kiet, presenting breathtaking views of the sea and cityscape. This extraordinary project offers an outstanding opportunity to own a hotel apartment in Da Nang's thriving market.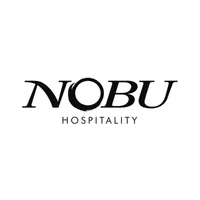 Nobu Hotel & Residences Da Nang – Exclusive Real Estate for Sale in Da Nang
1. Nobu Hotel & Residences Da Nang – Project Overview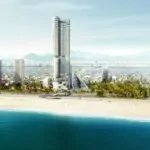 • Total land area: 3,000 sq m
• Project composition: Complex building: Hotel & tourist apartments
• Building height: 186 m including 43 floors
• Total Construction Area: 48,510 sq m
• Total area of the basement: 7,762 sq m (2 basements)
• No. of hotel rooms: 186 rooms
• No. of hotel apartments: 264 units
• Outstanding Utilities:
· Glass bridge to walk from the 2nd floor across
My Khe beach
· Health treatment center on 3 podium floors
· Restaurant and rooftop bar
• Estimated Handover Time: Q1/2026
2. Location of Nobu Hotel & Residences Da Nang For Sale
With unrivaled connection benefits and commanding spectacular views of the sea and city, the Nobu Hotel & Residences Da Nang is in a prime location at the main crossroads of Vo Nguyen Giap and Vo Van Kiet.
This great position gives residents and visitors the chance to immerse themselves in the natural grandeur of Da Nang's coastline while having easy access to the city's dynamic activities. 
· Da Nang International Airport: 5.5 km (10 minutes)
· Administration Center Da Nang: 4.6km (~10 minutes)
· Asia Park: 6.4 km (~12 minutes)
· Han Market: 4.0 km (~8 minutes)
· Dragon Bridge: 3.5 km (~5 minutes)
· Linh Ung Pagoda – Son Tra Peninsula: 10.1 km (~17 minutes)
· Ba Na Hills: 29 km (~30 minutes)
· Hoi An Ancient Town: 26 km (~30 minutes)
Nobu Da Nang offers a unique opportunity to indulge in opulent living against an amazing backdrop of enthralling ocean views and the dynamic town thanks to its strategic location.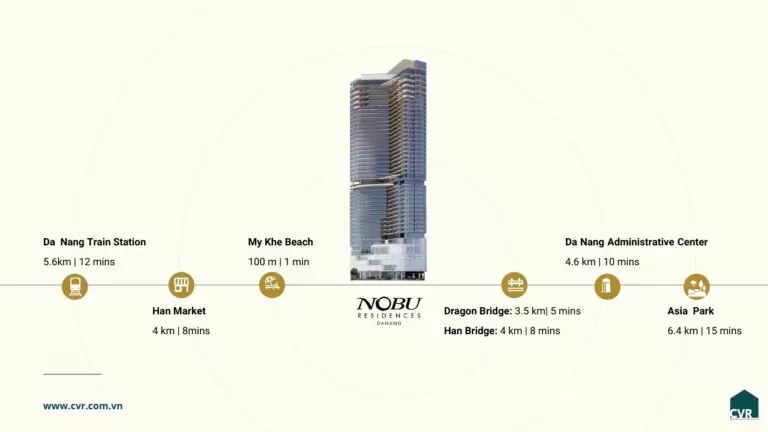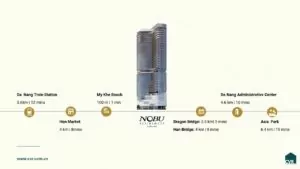 3. Project Scale & Utilities at Nobu Hotel & Residences Da Nang For Sale
Nobu Hotel & Residences Da Nang is an extraordinary project that offers an impressive scale and a wide array of amenities. Spanning a vast 3,000 m2 area, this development showcases a world-class hotel, exquisite restaurants, and luxurious tourist apartments managed by the prestigious Nobu Hospitality.
Standing tall at an impressive height of 186 meters, this architectural masterpiece exudes elegance and sophistication, leaving a lasting impression on all who encounter it.
The hotel component of Nobu Da Nang presents a total of 186 meticulously designed rooms, including 18 opulent suites, providing guests with a truly luxurious experience. Additionally, the property boasts expansive conference and event spaces, catering to a diverse range of gatherings and functions.
The 264 hotel apartments, ideally positioned on floors 19 to 41, offer residents panoramic views of the bustling streets below, creating a sense of connection with the vibrant city.
Furthermore, the highly anticipated presence of the renowned Nobu restaurant, known for its unique culinary style, promises to become a favored destination for fashion-forward individuals, both domestic and international.
With its grand scale and exceptional amenities, Nobu Hotel & Residences Da Nang sets a new standard for luxury living and hospitality, inviting residents and guests to indulge in unparalleled comfort and sophistication in the heart of this vibrant coastal city.
4. About Nobu Hospitality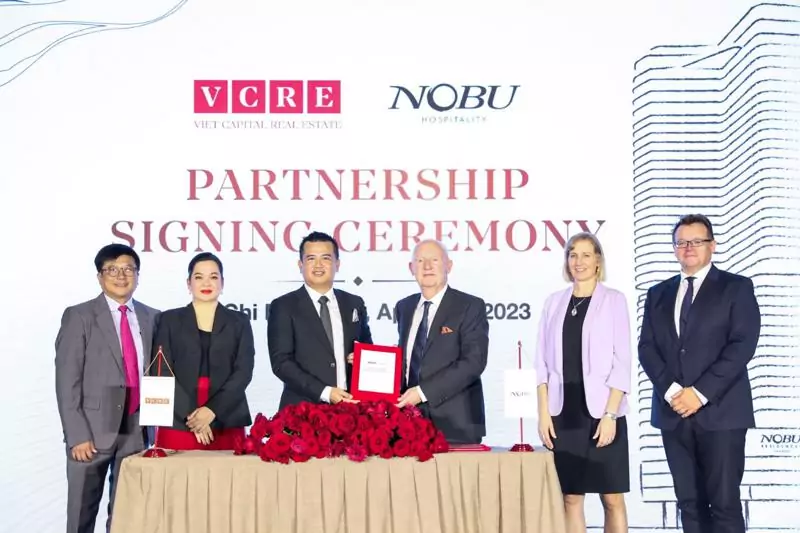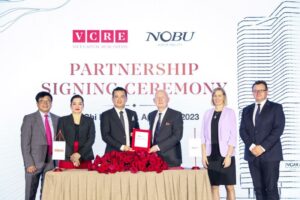 Nobu Hospitality is a world-renowned luxury lifestyle brand that has made its mark as one of the premier destinations for discerning travelers. Owned by Chef Nobu, Robert De Niro, and Meir Teper, the Nobu brand has established its presence across five continents, captivating guests in global capitals. With a focus on service, image, and hospitality, Nobu Hospitality offers comprehensive hotel and restaurant management, catering to unique projects worldwide.
The expansion of Nobu Hospitality into Da Nang with the Nobu Hotel & Residences Da Nang project showcases the brand's commitment to the Asia Pacific region. In partnership with Viet Capital Real Estate (VCRE) and Phoenix Holdings, this venture marks the introduction of Nobu Hotel, Restaurant, and Residences in Vietnam. As both groups explore opportunities for further growth in the country, Nobu Hospitality continues to strengthen its presence and solidify its position as a leader in the luxury hospitality industry.
By selecting Da Nang as its first venture in Southeast Asia, Nobu Hospitality recognizes the city's tremendous potential. Da Nang's pristine coastline, acclaimed by international travel magazines, serves as an ideal backdrop for the brand's signature blend of luxury and world-class hospitality. With its foray into Da Nang, Nobu Hospitality aims to elevate the city's status as a desirable coastal destination and provide guests with an unparalleled experience in luxury living and dining.
As Nobu Hotel & Residences Da Nang takes shape, residents and visitors can anticipate the unrivaled quality, attention to detail, and exceptional service that define the Nobu brand. From the exquisite cuisine of the renowned Nobu restaurant to the luxurious accommodations and amenities, this project epitomizes the fusion of opulence and sophistication that Nobu Hospitality has become synonymous with worldwide.
• Introducing Nobu Hotel, Restaurant & Residences Danang, Vietnam – Video •



• Selling price at Nobu Hotel & Residences Da Nang •
The estimated time of official opening for sale, project progress as well as selling prices of hotel apartments for sale at Nobu Hotel & Residences Da Nang will be regularly updated by CVR.
Whether you are looking for a place to call home or an investment opportunity, this project is worth considering. Don't miss your chance to own a piece of this stunning development – contact us today to learn more about Nobu Hotel & Residences Da Nang for sale.