Hoian d'Or – A tectonic heritage just 800m from the center of Hoi An ancient town, the Hoian d'Or resort complex project is a culturally harmonious connection with Hoi An.

Content
I. Hoian d'Or Project Overview
2. Location of Hoian d'Or Project
3. Project Scale and Utilities of Hoian d'Or
II. Selling Price and Policies of Hoian d'Or Project
III. Construction Progress of Hoian d'Or Project
---
Hoian d'Or – The final piece in the Hoi An complete picture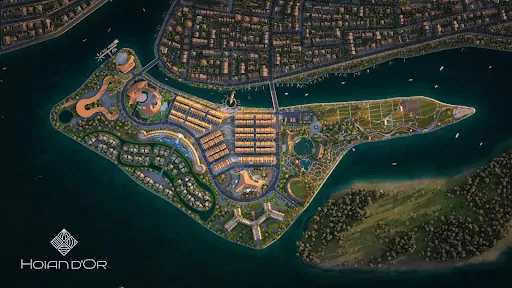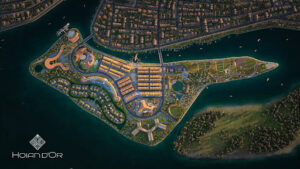 I. Hoian d'Or Project Overview
In the heart of the heritage region, Hoian d'Or is the unique ecological resort and cultural experience complex. This location will serve as a link between the glorious past and the proud present, allowing us to go forward into an adequate standard of living.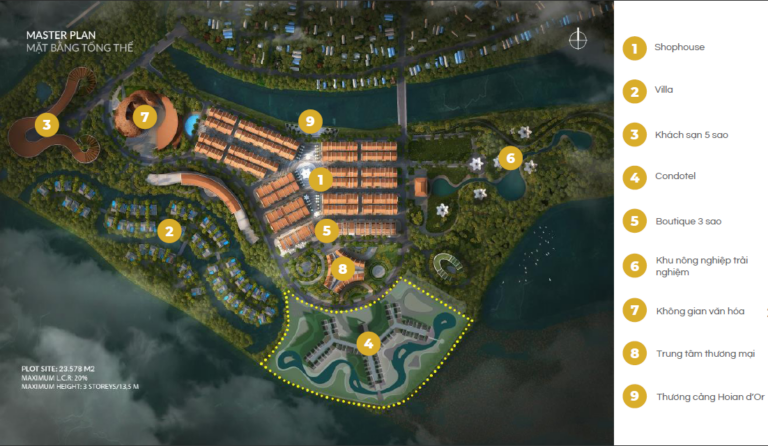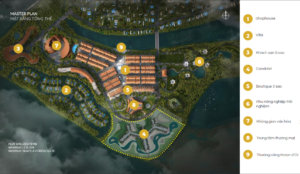 1. Quick Information
___________________
• Project name: Hoian d'Or
• Location: Con Bap, Cam Nam, Hoi An, Quang Nam
• Project Scale: 24.48 ha
• Construction density: 19.12%
• Product structure:
– Shophouse
– Villa
– Hotel 5-star standard
– Hotel 5-star Luxury
– Condotel
– Boutique hotel 3 star
• Utilities: Marina; Cultural space; Walking street; Shopping mall; Luxury restaurant; Experience Eco Park
• Investor: Con Bap Ecotourism Co., Ltd
• Project developer: BCG Land & VNGroup
• Overall design unit: Huni Architects
• Total investment: 2,330 billion VND
• Expected handover: 2023
• Distributor: CVR – Central Vietnam Realty
2. Location of Hoian d'Or Project
__________________________________________
Where is the Hoian d'Or project located?
The Hoian d'Or project is situated in the midst of the Thu Bon River, next to the ancient town of Hoi An.
Hoian d'Or is not only unique in terms of geography, but it also serves as a link between a system of adjacent indigenous craft villages located along the lower Thu Bon river, such as Thanh Tra pottery village, Kim Bong carpentry village, and Tra Que vegetable village… which have diligently nurtured the land of fortune for many generations.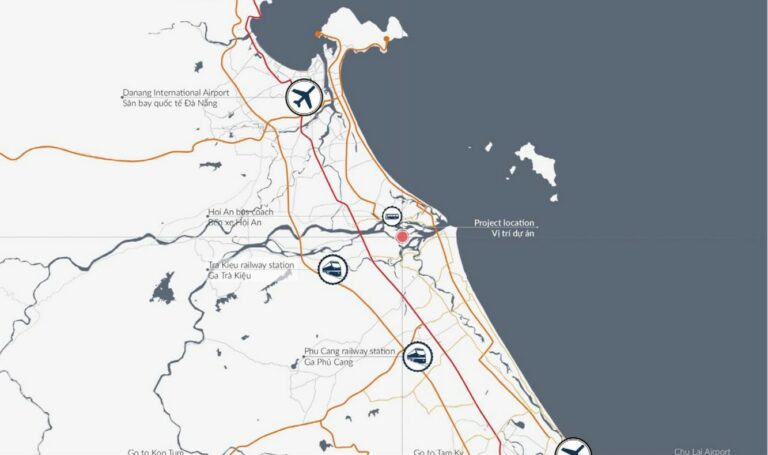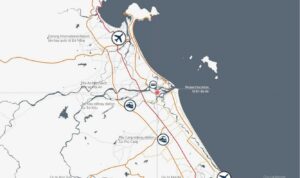 In addition, Hoian d'Or is linked to the tourist system that attracts the most people in Quang Nam, such as the crystal blue Cham island, the wonderful "Hoi An Memories" show, and the Bay Mau coconut grove, which each year attract millions of visitors.

3. Project Scale and Utilities of Hoian d'Or
_____________________________________________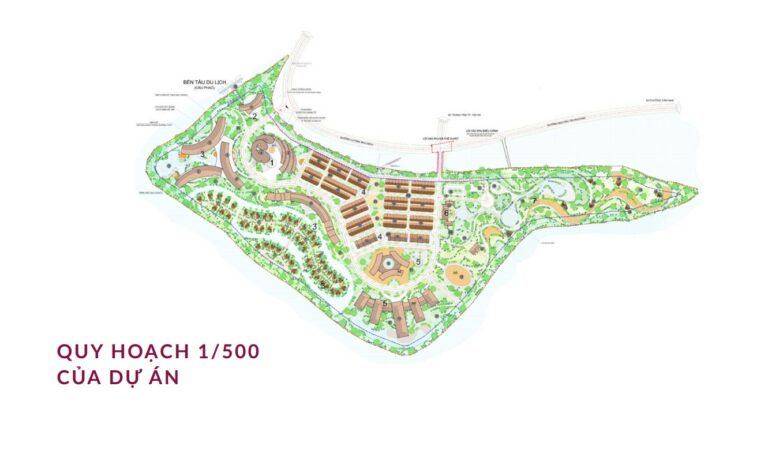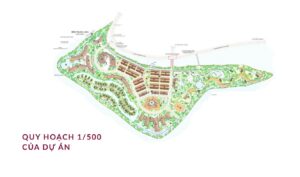 Hoian d'Or is a 24.5-hectare development with three sides facing the river and one bordering the residential neighborhood, bringing in urban utility and views. The Thu Bon River, emerald vegetation, and natural sceneries surround more than 80% of the area.
Hoian d'Or is a unique blend of three masterpieces that have been imprinted on the memories of many generations, with unique planning to bring balance and harmony to each living standard in terms of "Town", "Village", and "Garden".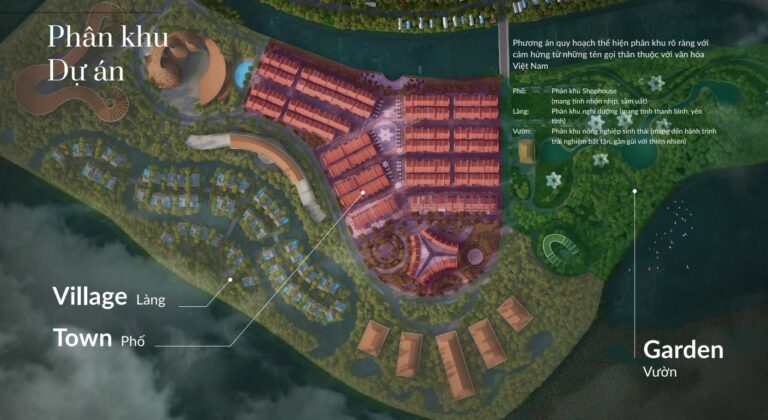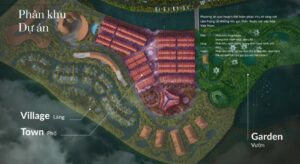 You will be immersed in a lively shopping scene of dazzling shophouse streets when you visit "Town."
Coming to "Village" will allow you to relax in a tranquil resort setting with river view villas that are always open to the lovely breezes.
When you visit "Garden," you will experience world-class health care services with all-natural treatments.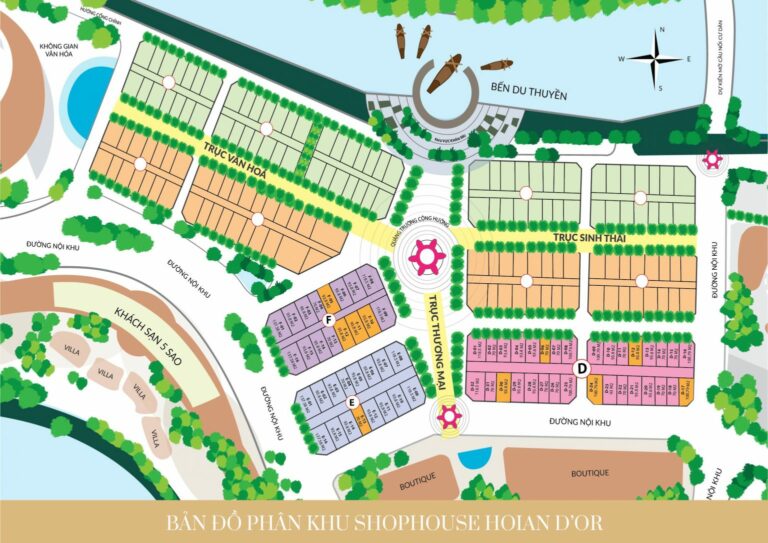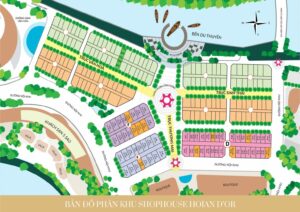 The product segment at Hoian d'Or includes:
• Villa: 52 villas
• Condotel: 230 units
• Shophouse: 202 units
• 3-star boutique hotel: 192 rooms
• 2 buildings of 5-star Standard Hotel and 5-star Luxury Hotel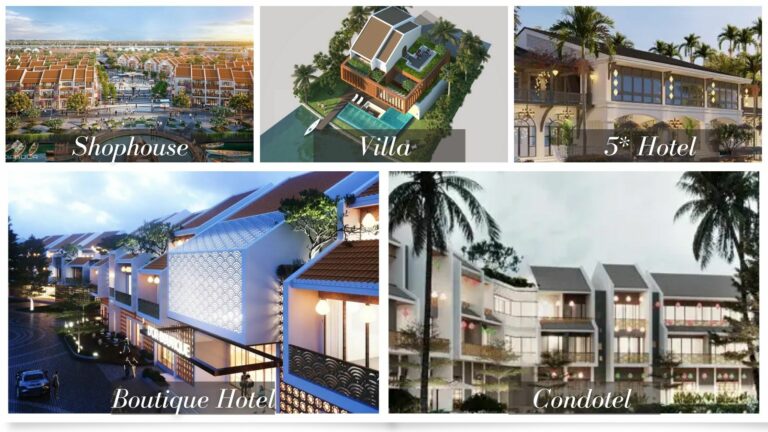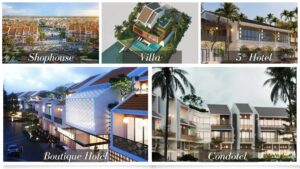 Five-star resort facilities are available at Hoian d'Or:
HOIAN D'OR owns a unique, diverse and homogeneous ecosystem with iconic works, promising to become a new destination for Hoi An tourism such as:
1. Hoian d'Or commercial port
2. Resonance Square
3. Marina
4. Riverside specialty restaurant
5. Trinh Cong Son Museum Area
& Chu Dau ceramic exhibition space
6. Eco garden
7. Vegetarian restaurant – Coffee – Tra Dao, brand "Doi Dep"
8. Spa area for health care with medicinal herbs
9. Trade Center
10. Cricket experience zone adventure diary
11. Sightseeing Tower
12. Sky bridge
13. Outdoor picnic area
14. Experience Agriculture Zone
15. Area for outdoor events
16. Agricultural products display area
17. Medicinal Garden
18. Organic farming garden
19. Natural swimming pool area
20. Scenic hut on high….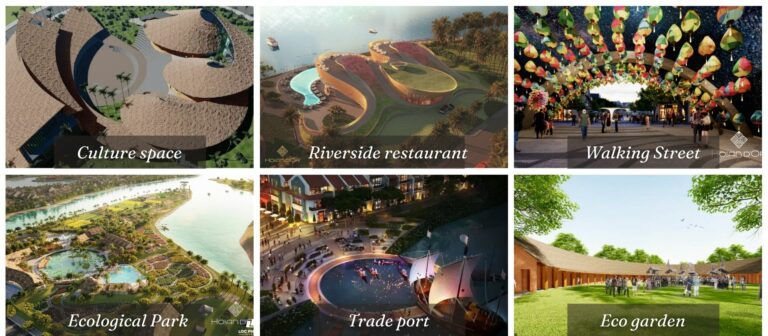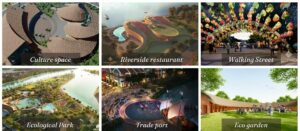 Details about the Shophouse in Hoian d'Or :
Each Hoi An D'Or shophouse in the project has two facades, one for the shophouse on the first floor and the other for the shophouse on the second and third floors, which are connected by a 3m-wide internal road. Con Bap Hoi An project's consumers are given meaningful presents that are modern in every stage and careful in every minute detail.
Hoian d'Or Shophouse Map Plan
Shophouse structure at Hoian d'Or:
• Front 5m, area 70m2. Quantity: 77 units
• Front facade 6.3m, area 93.8m2. Quantity: 73 units
• Frontage 7.5m, area 100.8m2. Quantity: 34 units
• 8.6m frontage, 118.5m2 area. Quantity: 10 units
• Special 16m frontage. Quantity: only 8 units
Why should you choose to invest in buying a Shophouse at Hoian d'Or?
→ Hoi An market is attractive for investment: The market has gained a foothold, attracting investment at a more competitive price than neighboring resort markets.
→ The project is located in the heart of an international tourist destination which promises explosive growth:
Hoi An has a tourism development factor that is highly competitive compared to other tourist cities such as Da Nang, Nha Trang, Phu Quoc, Binh Thuan, Ba Ria Vung Tau.
→ Hoian d'Or project is located in the most developed area of ​​Quang Nam:
Hoi An city is oriented to the planning of socio-economic development, tourism and trade first.
→ The first and only ecological island in the center of Hoi An ancient town:
For the first time, the project is synchronously developed from architectural design, utility planning, operation, operation and lifestyle to a full eco-resort style, combined with world cultural heritage experience. gender.
→ Typical architectural complex: Re-enacting the golden age of Hoi An
→ Reasonable investment rate as a place to live and exploit for tourism rental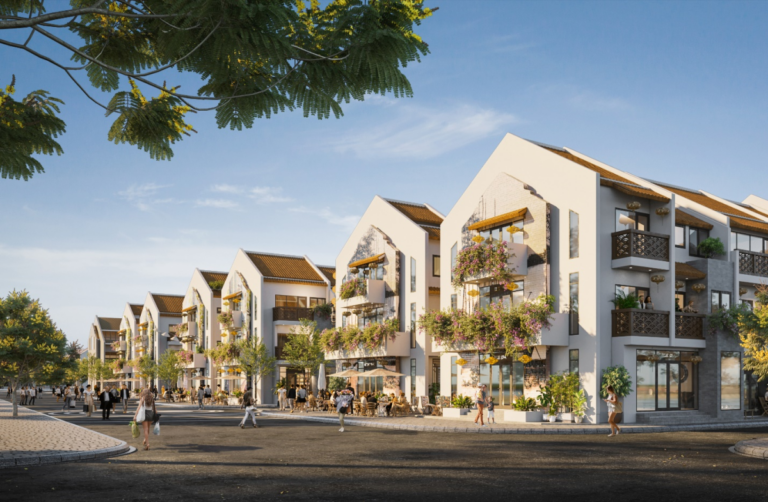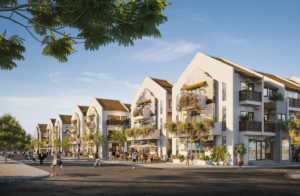 II. Selling Price and Policies of Hoian d'Or Project
What is the selling price of shophouses in Hoian d'Or?
Hoi An D'or project is opening for sale in phase 1 with shophouse products belonging to Maison de Ville subdivision.
The price of each shophouse has a starting price of 7 billion VND, depending on the area of each apartment.
The sales policy and price of the shophouse in Hoi An D'or have been updated by CVR and are always ready to provide enough information to customers interested in buying the project.
For all relevant information about Hoi An D'or project, please contact CVR to receive the most detailed advice.
Contact to receive information, selling price and preferential policies from the investor when buying Hoi An D'or project:
Hotline:  0778 948 949 | CVR –  Hoi An D'or project distributor
Email: [email protected]
Address: 333 Chuong Duong Street, Ngu Hanh Son District, Da Nang, Vietnam
III. Construction Progress of Hoian d'Or Project
Hoi An D'or project is being constructed on schedule with all 202 Maison de Ville shophouses completed the foundation and under construction on the 1st and 2nd floors.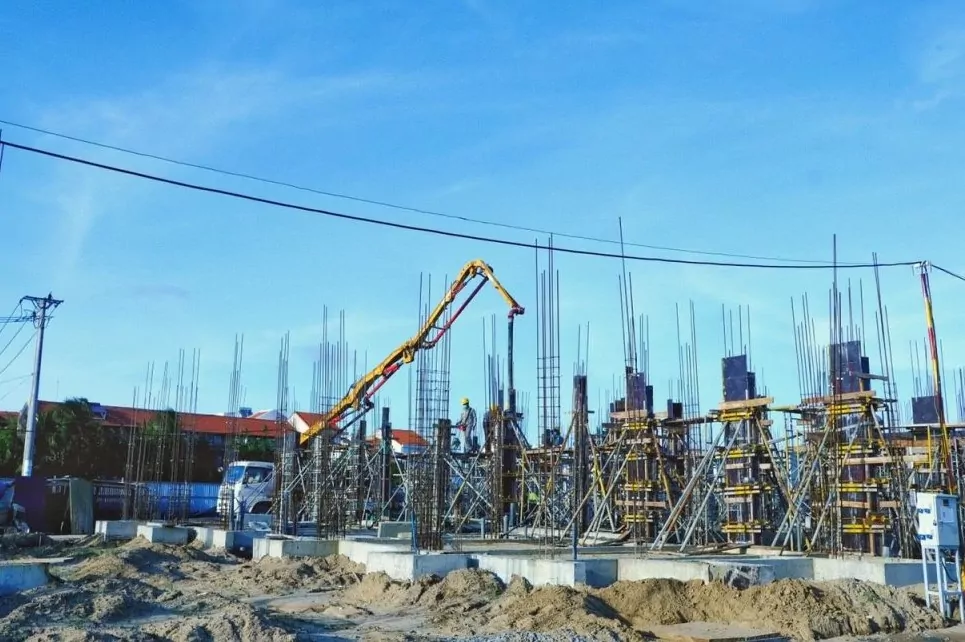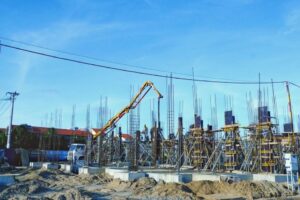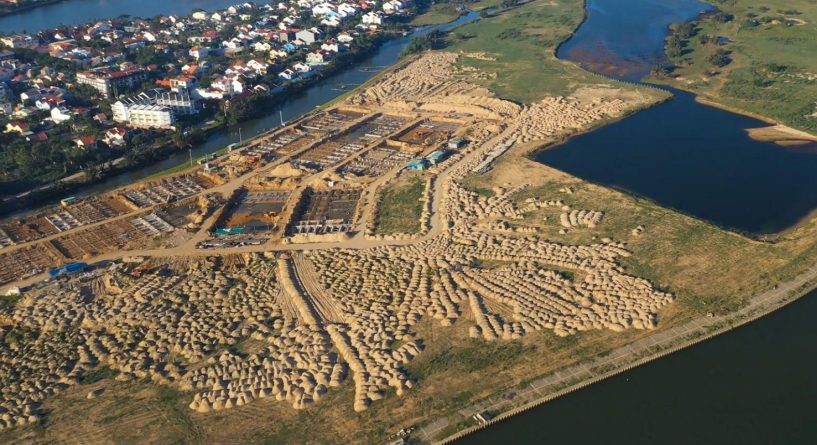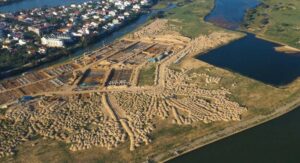 Property for sale in Da Nang can be found at CVR!  


Buying and selling real estate in Da Nang has never been easier. Get experienced property advice, real estate news, and expert perspectives from both local and international real estate experts.

CVR is a professional real estate brokerage in Vietnam that specializes in assisting clients in purchasing, selling, and renting homes in the central regions of Vietnam at the best possible prices. We have an unequaled range of Da Nang's most sought-after homes. Our prices are obtained directly from developers, property owners, and local agencies.

Find your dream home in Da Nang by searching our listings!