Tag:
Best Up and Coming Apartment / Villa for sale in Central Vietnam
Top Homes for sale in Da Nang, Hoi An and Central Vietnam – June 2021
The Central Vietnam real estate industry is still focused on providing high-quality projects and residences to satiate the ever-growing tourist industry in Central Vietnam.
Recent encouraging news from the Vietnamese government contributes to the investor's sense of assurance and security when purchasing properties in Vietnam.
The Vietnamese government has provided instructions for property owners to receive ownership certificates (pink books). A long-awaited day for all Vietnamese nationals and qualified foreign investors is looking to be coming sooner than expected here in 2021.
---
With sales likely to speed up in Q2-Q4/2021, CVR would like to highlight a few of the real estate market's notable listings as of June 2021:
1. TWO BEDROOM OCEAN SUITES APARTMENT FOR SALE IN DA NANG
*Only Ocean Suites Apartment available for Foreign Purchase currently via Long Term Lease Agreement *
Spacious two-bedroom apartment for sale in the Ocean Suites Danang with breathtaking views of the sea!
The Ocean Suites (formerly Ocean Apartments) is located within the award-winning Danang Beach Resort which provides access to all facilities including the Beach Club and its numerous facilities (Restaurant, Spa, Lap Pool, Tennis Court, etc.) and to Danang Golf Club, the Greg Norman-designed 18-hole Link-Style "Dunes Course" – rated again in 2013 as Vietnam's best golf course. The Ocean Suites will provide its residents with private comforts including its own recreational zone including a swimming pool set around a lush green environment.
Apartment sale price: 259,000 USD
For more details, please click on this link to see the listing!
 

2. TWO BEDROOM VILLA FOR SALE IN AN BANG BEACH, HOI AN
This magnificent two-bedroom "ancient architecture style" property is for sale near An Bang Beach, Hoi An, Vietnam. The villa is built on 248 square meters of land and has a total interior capacity of roughly 147 square meters.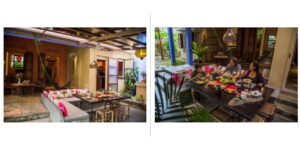 A gated front garden area with plenty of parking for motorcycles. Pets and children will love it. The villa has a living room, a kitchenette, two bedrooms in the garret, and toilets.
Residents in the region can relax in the peace and quiet of an upmarket villa community. An Bang beach, as well as many local coastal and riverfront cafés, are all within walking distance.
For those who enjoy the beach, this is an excellent location, which is roughly a 5-minute drive to Hoi An ancient town. Cosy Corner Coffee is only 300 meters away. The Moon restaurant An Bang is 200 meters away.
Villa sale price: 485,000 USD (Vietnamese buyer only)
For more details, please click on this link to see the listing!

As always, CVR is at your service and happy to provide help any way we can! Featured Homes For Sale in Central Vietnam – June 2021
Top Homes for sale in Da Nang, Hoi An and Central Vietnam – June 2021 The Central Vietnam real
Read more